Dancing with Durga - Mythology meets Asana
With Andrea Fotopoulos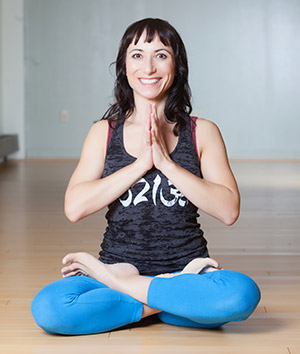 WHEN:
Saturday, May 7th
1 - 3:30pm
---
---
The story of Durga is an exciting one. It is the story of the divine feminine as a powerful force able to destroy the darkness, but is also powerful enough to create and sustain. The story of Durga is a myth that tells of the struggle between the forces of light and dark, that keep us from staying clear on our path, keeping us from our dharma. Stories, like myths, can be used as entertainment that delivers a message. Stories can help us make meaning as we work on deepening our understanding of the where we struggle in our practice and how we might use tools to slay the darkness, that we gain more clarity or light.
In this 2.5 hr. workshop, we will use the myth of Durga, as a pathway to understanding bound poses, our relationships to them and how we can use them to deepen certain poses: standing balancing binds, twisted binds, sitting binds and supine binds. We will use progressive sequencing to bind ourselves to something that matters.
---
Andrea Fotopoulos is a Boston based "Anusara Inspired" yoga teacher. Inspired by the complexities and traditions of yoga, and the wildness of living an embodied life, she teaches a practice focused on using progressive sequencing and alignment as a mechanism to deepening the experience of yoga. Andrea believes that the practice on the mat can be a powerful tool for our lives and delivers her classes from that belief. With a sense of joyful playfulness and humor, she cultivates a space for each student while creating a strong sense of community. As for her own practice, Andrea has been practicing since 1995 and teaching since 2004 with an accumulated 1000+ hrs. of education and counting. She continues to study with her primary teacher Christina Sell, but also draws heavily on her other favorites: Desiree Rumbaugh, Noah Maze, Darren Rhodes and will always be thankful to John Friend for Anusara. Her philosophical tendencies are satiated by studying the wise words of Sally Kempton, Douglas Brooks and Paul Muller-Ortega.