INQUIRY + IMMERSION THROUGH YOGA
A 30 HOUR COURSE FOR TEACHERS AND STUDENTS
WITH JULIET LORANGER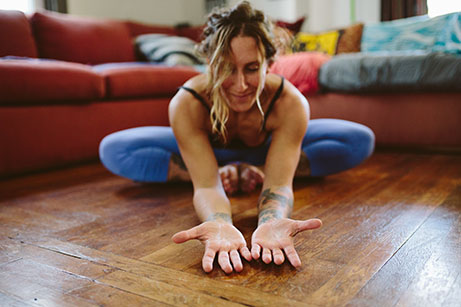 WHEN:Starts THURSDAY APRIL 6 - Ends SUNDAY APRIL 30
---
---
This collection of 30 hours called INQUIRY + IMMERSION THROUGH YOGA is designed for yoga practitioners that are at a point in their relationship with yoga where "more" seems fitting. Though the ebb and flow of life there are times that yoga brings a sense of curiosity which often sounds like: what more is there to learn? This course aims to bring you "more" through learning to value studentship and by fortifying a personal practice. This course has been crafted, designed, and measured carefully as a an potent resource for helping you become a better practitioner, whether at home or in the studio. Teachers, students, all ages and abilities are welcome. Yoga takes form and embodiment through postures (asana), breath-work (pranayama), meditation, theory, communication, creativity, and through the art of vulnerability. Juliet's goal is to is teach and coach students to become more confident in their process, to feel supported in their efforts. Juliet is a 500-ERYT and a Yoga Alliance Continuing Education Provider, this course meets the yearly requirement of 30 CE hours for yoga teachers.
Course Objectives: -Explore your personal relationship to your practice, and be coached in ways that will provide you with knowledge to maintain a consistent home and studio practice.
-Discover more of your sensory awareness as well as a better logical understanding of proper physical alignment and of breath-work.
-Work to edge out patterns that aren't useful in your body to create new and improved methods for a safer and more expressive, evolved experience of yoga postures.
-Create a relationship with your community as you delve into new understandings by conversation with yourself and others on the subjects of yoga.
Course Teachings:
-Experience of being aware of your body in relationship to postures with personalized information and guidance from Juliet.
-Teachings in Classical Yoga, Yoga Philosophy, Chanting, Mantra, and Sanskrit Terminology.
-Modern interpretations of South Indian Hindu Mythology and Sanskrit Etymology.
-How to become resourceful to yourself as a practitioner of yoga, at home, in the studio, and in life!
-Conversation, student-teacher evaluation of postures and modifications, writing (journal) and/or discussing of topics and inquiries. This will directly (and indirectly) help develop your skills for gaining 'more' (or less) of what you need on your mat/in your life. 4 Thursdays
Thursdays format:
5:30(or when you can arrive) – 7:15pm Yoga Asana practice
7:15- 7:30pm Chanting or Mantra or Meditation
7:30 – 8:30pm (bring snacks, eat them now) group discussion on class themes.
2 Saturday/2 Sundays
Sat/Sun format:
1:00 - 1:30 Pranayama/Meditation/Writing(journal)
1:30 - 3:45pm Yoga Asana Practice
3:30 - 5:15pm (bring snacks eat them now) Focus on development of practice, Pose structure/stages/alignment, lecture/dicussion of poses, philosophy, mythology, themes from Thursday's practice.
APRIL
Thursdays 6, 13, 20, 27
Saturdays 8, 15
Sundays 23, 30
Pricing: $480 Full Course (if you're a Yoga Alliance Certified Teacher this is the 30 hours you need for your yearly membership, it's a YACE registered course)
$60 Thursday
$80 Sat/Sundays
To register/pay contact Juliet at yogaonunion@gmail.com.
Any questions or need to talk sliding scale support may be available, again contact Juliet! yogaonunion@gmail.com or (508) 858-6786.